We service all types of car models and specialize in custom vehicles, camber modifications for lowered or raised vehicles, fender modifications for vehicles with oversized wheels.
All Foreign and Domestic models with camber & caster problems causing poor tire wear and pulling problems.
Video Credit to: [Chevrolet].(Jul 24, 2015). Certified Service EXPERTips | Chevrolet
We can accommodate all rim sizes from 15" wheels up to 30" wheels. Camber repairs for lowered cars with poor tire wear issues.
Most all types of suspension parts are quickly available as we work with several nearby quality parts houses.
Hunter Engineering Hawkeye Laser Computer Alignment Systems. Software is updated annually for all vehicle alignment angle specifications from the 1950's to present day.
Foreign & Domestic Cars & Trucks, New & Old Model Vehicles including Bentley & Rolls Royce, Restoration Cars, Specialty Cars, Race Cars & Drag Race Cars, and Stretch Limos.
We service just about every American car, foreign car, exotic luxury car, limousine, commercial vehicle and vintage collectible cars
(the ones that sell at auction for megabucks).
Raybestos Camber Kits – Caster Kits – Eccentrics (Domestic Cars & Trucks)
Mercedes Benz Camber/Caster Adjustment Bolt Kits
Problem solvers we are. Bring in your vehicle. Choose Us!
Acura

Alfa Romeo

Aston Martin

Audi

Bentley

BMW

Bugatti

Buick

Cadillac

Chrysler

Daewoo
Delorean

Dodge

Excaliber

Ferrari

Fiat

Ford

GMC

Honda

Hyundai

Infiniti

Jaguar
Jeep

Kia

Lamborghini

Land Rover

Lexus

Lincoln

Lotus

MG

Maserati

Maybach

Mazda
McLaren

Mercedes-Benz

Mercury

MINI

Mitsubishi

Nissan

Porsche

Rolls-Royce

Saab

Saturn

Scion
Smartcar

Spyker

Subaru

Suzuki

Tesla

Toyota

Triumph

Volkswagen

Packard (believe it or not but yes)

Volvo
Camber angle is the angle made by the wheels of a vehicle; specifically, it is the angle between the vertical axis of the wheels used for steering and the vertical axis of the vehicle when viewed from the front or rear. It is used in the design of steering and suspension. If the top of the wheel is farther out than the bottom (that is, away from the axle), it is called positive camber; if the bottom of the wheel is farther out than the top, it is called negative camber.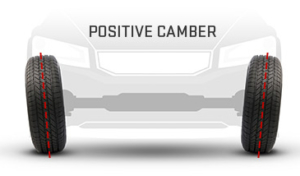 Too much positive camber will result in premature tire wear on the outside of the tire and cause excessive wear on the suspension
parts.
With too little positive caster, steering may be touchy at high speeds and wheel returnability may be diminished when coming out of a turn.
If one wheel has more positive caster than the other, that wheel will pull toward the center of the vehicle. This condition will cause the vehicle to pull or lead to the side with the least amount of positive caster.
ITS 

NECESSARY

TO PROPERLY FIX THIS PROBLEM. LET US SERVICE THIS FOR 

EXCELLENT CRUISING

OF VEHICLE.